Pneumatic & Hydraulic Services
Fluid Power Engineering
Here at Air Accessories our core business is Fluid Power, we have been a Bosch Rexroth Pneumatic now Emerson Aventics, distributor since the range was first introduced to the UK. We have an extensive technical library and can often dig out long forgotten details of obsolete parts and even suggest an up to date alternative. It's all part of the service we offer.
Cylinder Builds
We are the only UK Company that are authorised as an Emerson Aventics Sales Partner to manufacture their ISO 15552 cylinders. This enables us to produce the internationally recognised cylinders from stock components. Due to the interchange ability of the ISO range, we can produce a cylinder that would replace not only an Aventics / Bosch Rexroth unit, but would replace a Parker, Norgren, Festo, SMC or any other ISO 15552 unit. Replacement / urgently required cylinders can be manufactured the same day from component stock and raw material. Stocked component sizes are 32mm, 40mm, 50mm, 63mm, 80mm, 100mm, 125mm and 160mm. 32mm to 125mm can be manufactured to either a Tie Rod design or a Profile design.
Having the cylinder components available also enables us to create 'specials' away from the ISO standard. Our pneumatic engineers can often manufacture a cylinder to replace an old Pre-ISO cylinder or even Imperial sizes. We can also build a cylinder to fit a bespoke application or a non standard footprint. Further complimenting this facility is our pneumatic cylinder repair and hydraulic cylinder repair / refurbish service. Most pneumatic cylinders and hydraulic cylinders can be refurbished, most of the time offering a substantial saving against a new unit. We work very closely with a seal and gasket manufacturer to replace old seals that are no longer available.
Click Here For Details On Our Cylinder Repair Service
More recently we have purchased Carter Controls – a specialist Hydraulic & Pneumatic Engineering Company. This was to focus on Hydraulic & Pneumatic Cylinder manufacture, refurbishment and repair. Our fully functional factory can handle most Hydraulic & Pneumatic Cylinders including telescopic. All manufacture and refurbishments are carried out on the Sheffield site. Manufacture can be to an ISO Standard, a pattern or design, a manufacturer's part number or we can undertake the complete design and manufacture based on your specific requirements / application.
We have many types of seals available from stock or on a very short lead time, these are for both Pneumatic and Hydraulic cylinders. Materials availble are NBR Rubber, Viton, Polyurethane, Silicon and Graphite.
One of our key strengths is the sales team, all of which are time served having comprehensive knowledge and understanding of the Fluid Power industry and allied sectors including OEM, Rail, FMCG, Power Generation, Including Nuclear (Achilles Pre-Qualified), Dental, Health Service, Civil Service, Construction, Education & Design, Off-shore (including ATEX approved) and automotive.
Bespoke & Specialised
At Air Accessories we pride ourselves on the ability to design, build and implement turnkey projects. Using our in-house design facilities and our knowledge & experience, we can thoroughly produce complete operating systems from a simple valve / cylinder configuration to a fully integrated workstation.
Many of these systems utilise both pneumatics and linear products to deliver a fully operational production line or work station. These systems can also have built in 'failsafe' programmes to include isolators, cylinder rod locking mechanisms, proximity sensors and two handed safety start mechanisms, ensuring total safety for the operator.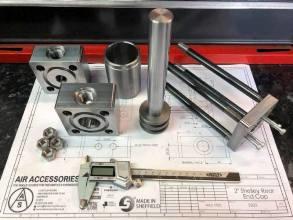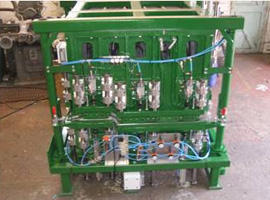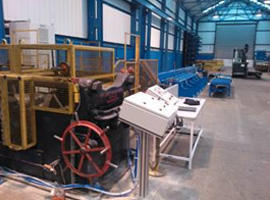 Please contact us to discuss your requirements in further detail.
Pneumatic stock and distribution
At Air Accessories our fluid power engineers carry extensive stock of fluid power products including ranges from Aventics - Bosch Rexroth, Asco, Joucomatic, Metal Work, Norgren, Festo, SMC, Parker Hannifin, CKD, Tolomatic, Vickers, Martonair, Enots,Mead, Beech, Clippard, Burkert and M & M Products at the Head Office in Sheffield. Stocked items include Pneumatic and allied products to include valves, filtration equipment, process equipment, quick release couplings, hose, blowguns, air tools, push-in fittings and genuine 'Jubilee' clips.
Distribution is covered on a national basis from Sheffield.