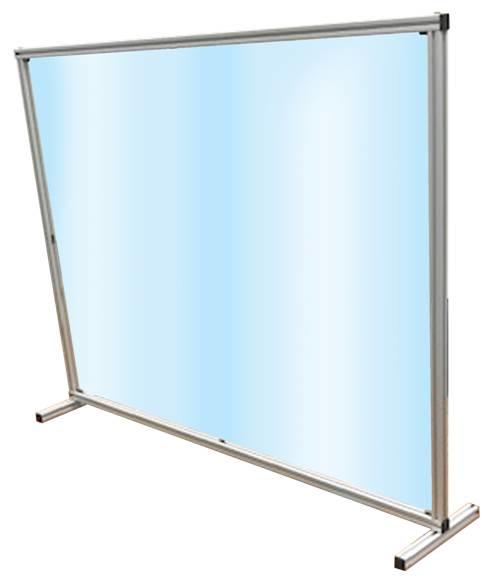 SCREEN37 - Standard Low Cost Protective Counter / Desk Screen
Code: SCREEN37
Low Cost Protective Counter Top or Desk Screen manufactured by Air Accessories. Easy to install and a very effective way of ensuring face to face staff are not exposed to coughs, sneezes and droplets.
Competitively priced, product shown is our entry level SCREEN37. This screen is for free standing but is also supplied with 3M Double Sided Strong Adhesice Tape for secure fixing if required. This is a robust, rigid screen which is completely versatile and strong. All slots are 'filled' to prevent dirt ingress. The Specifications are as follows:
Construction: Bosch Rexroth 20 x 20L Aluminium Profile with 3mm Clear Polyvarbonate
Height - 800mm
Width - 800mm
Weight - 2Kg
Can also be used a standard guard for maching applications but to the use of Polycarbonate (shatterproof).
This is one of our standard best selling screens. We can produce screens to almost any size or design including screens for food counters, desks, reception areas, meeting areas, nail bars, office spaces. We also have a mobile screen on wheels available that is ideal for face to face meeting areas etc. Please contact us with your ideas, environment or design, we would be happy to quote.
Please contact us for any further information you may require - adam@airaccessories.co.uk or 0114 2582086